The BIM Unicorn
How often do you hear that BIM is bad return-on-investment (RoI)? It promised real-time design and collaboration and delivered headaches and stress. It was meant to be the unicorn with the pot of gold at the end of the rainbow but it has turned out to be a damp squid. Like everything in life, buying without evaluation will lead to errors and a waste of resources. What's the first thing that a company ought to investigate before investing in BIM: Information Technology (IT).
At Cloudalize, we have experience of different project stakeholders using their own servers for managing BIM. Discussions arise who is responsible for what and who will pay. Poor IT management will lead to bad synchronisation across servers to on- and off-site operations. Nothing is shared and everyone is working in silos. This is against the principle of BIM, and indeed the much-mentioned Agile methodology.
Talk the IT Crowd
The BIM software landscape is vast and almost all of it is similar and very user-design (UX) friendly. This creates a false narrative. Each are specialised in their own way: some create complex models and others are more suitable for small-scale implementations. There are different applications for planning, documentation, designing offering all the latest wizardry.
Your team needs a well-oiled IT infrastructure to support BIM. Kristof Vandenbogaerde, BIM Manager at BIMplan:
Deploying infrastructure and managing systems performance is a time-consuming and devious process. What is needed for successful BIM implementation is a BIM vision and a plan based on a detailed functional analysis of requirements signed off by management, end users and IT.
BIM on the Cloud
Cloudalize has helped many companies over the years to successfully implement BIM. In the past, companies – big and small – relied on traditional virtual desktop infrastructure (VDI) to distribute the power and speed to BIM end users wherever they are. The Cloudalize Cloud Platform is an alternative to VDI to simplify BIM implementation for small-medium entreprises (SMEs) and larger organisations. Cloudalize delivers a robust, flexible and mobile infrastructure directly from the Cloud or on-premises as Private GPU Cloud.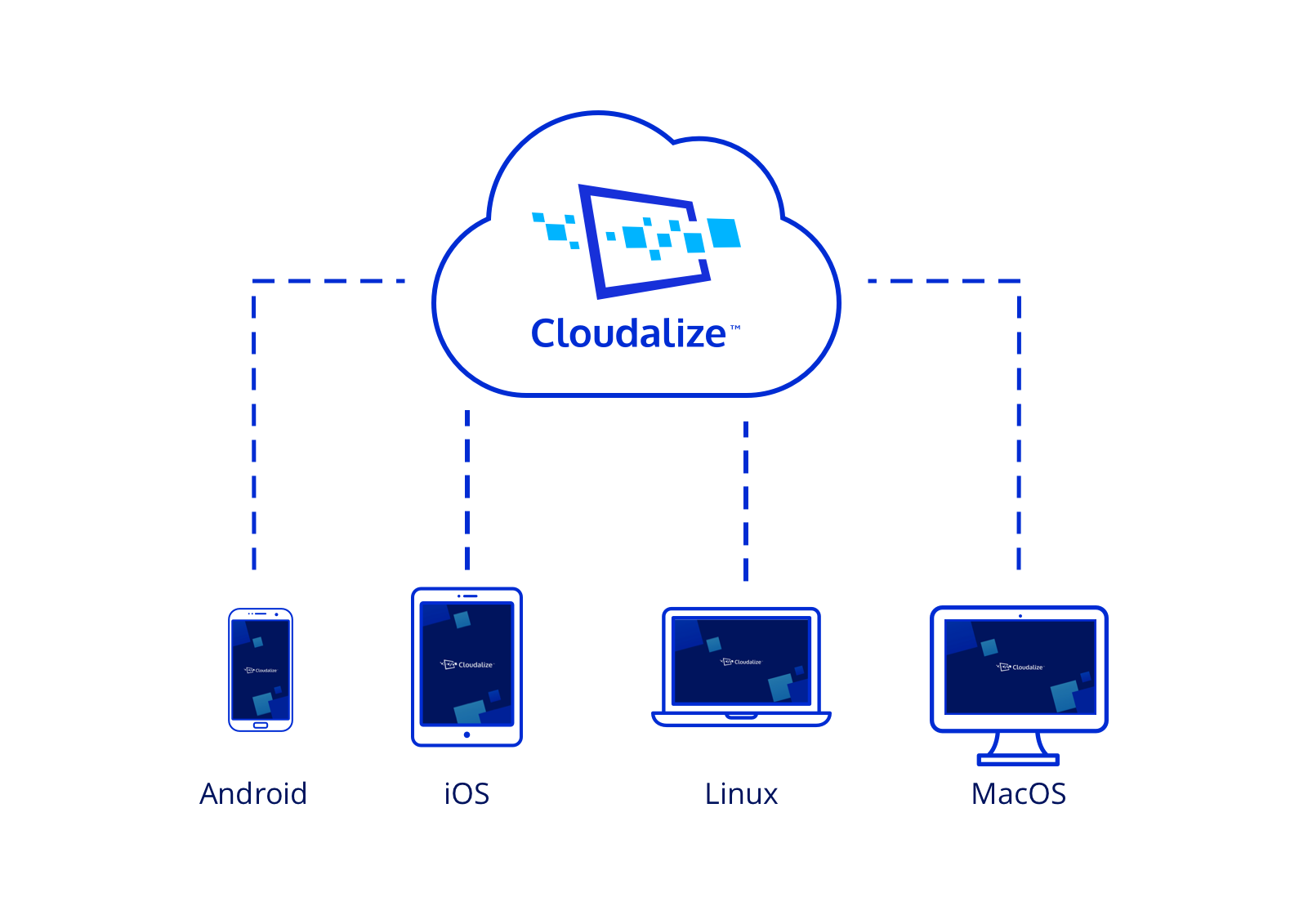 The Cloudalize Cloud Platform is straight-forward IT infrastructure for unifying all your BIM workflows, projects and applications on one modern IT infrastructure. On the Cloud Cloud Platform, your team and you have access to our Cloud Workstations (Desktop-as-a-Service solution).
What makes it unique and better than the competition, it is enabled by Cloudalize's proprietary technology powered by graphical-processing units (GPUs). GPUs are over 1,000 faster than traditional CPU technology and deliver greater speed and better performance.
Unlike traditional VDI, the Cloudalize Cloud Platform is available where you need it most without updating hardware and on any device. A Cloud Workstation is accessed from a standard web browser on a smartphone, tablet or MacBook.
Security in the Cloud
IT security remains critical for business and their continued success. When data is stolen, we hear about it. In 2018, a high-ranking British counter-terrorism police officer was dismissed when it was uncovered that he took a now-missing laptop containing top-secret documents from the office. (BBC 2018) In 2012, an unencrypted laptop was stolen with the personnel information of thousands of NASA employees and contractors. (Klotz 2012)
These situations are confirmed by Jan Festjens, ex-product manager at Cloudalize and now IT admin at a major manufacturing company says:
I've seen workstations and CAD laptops stolen on construction sites. Security on these computers is often deficient. Data and 3D models, as a result, may fall into the wrong hands"
Festejens confirmed that Cloudalize can help to reduce the risk of lost or stolen data. A end-users data, files and applications are accessible from the Cloud and not directly stored on a physical machine. Once the end user is finished working on the Cloudalize Cloud Platform, a complete shut down will secure everything. Even if the laptop is stolen or lost, everything is on the Cloud and can be secured remotely.
Furthermore, the Cloudalize Cloud Platform is maintained on Tier-3 ISO-certified data centres with 24/7/365 security, flood-proofing and back-up electrical generators.
Ever Underestimate IT
The role of IT in the boosting efficiency and the productivity of teams and organisations has ever been greater. This is the same for the implementation of BIM. Management and the end users may have le Grand Plan of BIM but without due considerations of IT, the plan will come to nothing. While VDI can provide a provisional solution, it will not provide the security, mobility and ease-of-use like the Cloudalize Cloud Platform. For companies big or small, Cloudalize can simplify BIM implementation and deliver greater speed and performance directly to the end-user device.
Your teams' project data and files are safe and secure on the Cloud to be accessed by project stakeholders whenever and where needed – on- or off-site.
References
BBC (2018) 'Papers in boot' police chief Marcus Beale sacked, Available at: 'Papers in boot' police chief Marcus Beale sacked – BBC News (Accessed: 27 January 2020).
Klotz, I. (2012) Laptop with NASA workers' personal data is stolen, Reuters, 15 November 2012. Available at: Laptop with NASA workers' personal data is stolen | Reuters [Accessed 28 January 2020]
Editor's Note: This article was updated on 10 January 2021
Author: Koenraad Willems