Cloudalize Cloud Platform
A Hosted Cloud Service with Greater Processing Power & Better User Experience from Any Device
check_circle_outlineGraphical Acceleration
check_circle_outlineBetter User Experience
check_circle_outlineMore Secure
check_circle_outlineCost-Saving
The Cloud
The Cloud is the ability to host a software platform from a remote location. A user accesses and uses computing resources over the Internet from almost any device, anywhere. Instead of installing software and storing data locally on multiple devices, all you do is log in like signing into your Microsoft 365 or Google Workspaces account. 
Cloudalize Cloud Platform
The Cloudalize Cloud Platform is proprietary cloud technology. It includes an operating system and an optimised environment on a private and secure platform in the Cloud. It is powered by NVIDIA graphical-processing units (GPUs) delivering 1,000 times more power and speed than a CPU-powered device.
The platform can deploy a combination of Cloudalize's flagship product, Cloud Workstations (Desktop-as-a-Service) is complimented by One-click App-streaming (Application-as-a-Service) and Kubernetes GPU Cloud (Kubernetes-as-a-Service) for AI-model training and inference at once.
The Cloudalize Cloud Platform brings a high-level of support, security, and performance to Cloudalize clients only. 
Contact the Cloudalize Team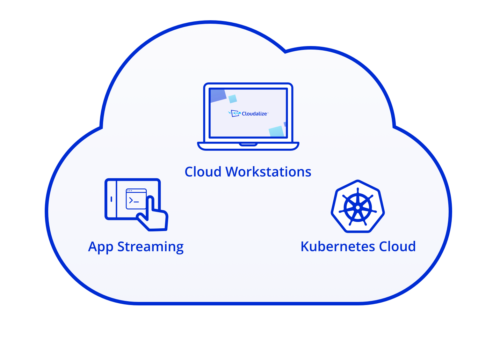 Cloudalize Cloud Vision
Founded with the vision to make GPU technology accessible and straightforward to business and education, the Cloudalize Cloud Platform provides unmatched admin and end-user experience with a well-designed interface, easy accessibility and management.
Cloudalize Cloud Platform is available from Cloudalize Cloud or can be deployed on-premises as Private GPU Cloud.
Clients have the option to use our cloud solutions hosted by Cloudalize or have them deployed in-house.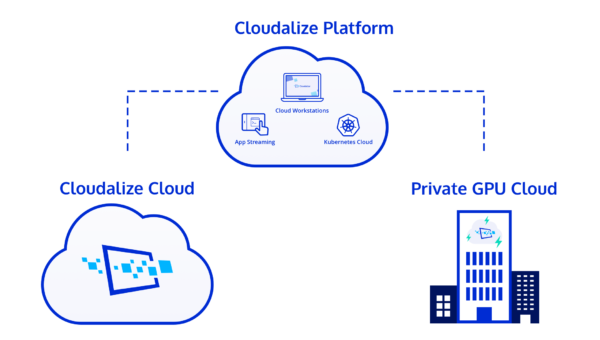 The Cloudalize Cloud Platform is hosted and managed by Cloudalize on its private data centres. The Cloudalize Cloud is therefore delivered directly to our clients. It is the Cloudalize expert and experienced engineers who manage security, hardware, maintenance and upgrades to ensure always-on, best-in-class performance.
As a hosted service, Cloudalize Cloud reduces the need for physical infrastructure with a subscription or monthly pricing basis. We lower your financial investment and provide you with on-demand computing resources, together with flexibility, administrative ease, and scalability.
Find Out More
Private GPU Cloud is an on-premises cloud hosting and a real alternative to Virtual Desktop Infrastructure (VDI). Cloudalize tailors a dedicated cloud for your company including hardware offering, use case optimisation and cloud platform services to deliver guaranteed performance, quality and security needed for your business goals and objectives.
Private GPU Cloud offers hardware selection freedom and a ready-to-use platform unified for multiple business applications. Compared to traditional VDI, you will benefit from our server automation which reduces the scaling costs of reengineering or reconfiguration.
Find Out More
Cloudalize has innovated existing technologies to focus on graphical acceleration demands of our partners and clients. Whether you want a Cloud Workstation for architecture or run an AI-enabled supply chain, the Cloudalize Cloud Platform has the power to do so.
Cloudalize Workstation (DaaS)
A Cloud Workstation is a managed and high-powered Desktop-as-a-Service (DaaS) solution from Cloudalize. It is the modern way for remote working and distance learning on the Cloud. You can turn your device into a supercharged computer in just minutes and assign it to anyone who needs it. A Cloud Workstation supports the Bring-Your-Own-Device (BYOD) and Bring-Your-Own-Licence (BYOL) of your organisation. Powered by NVIDIA graphical-processing units (GPUs), it delivers greater performance and a better end-user experience.
Find Out More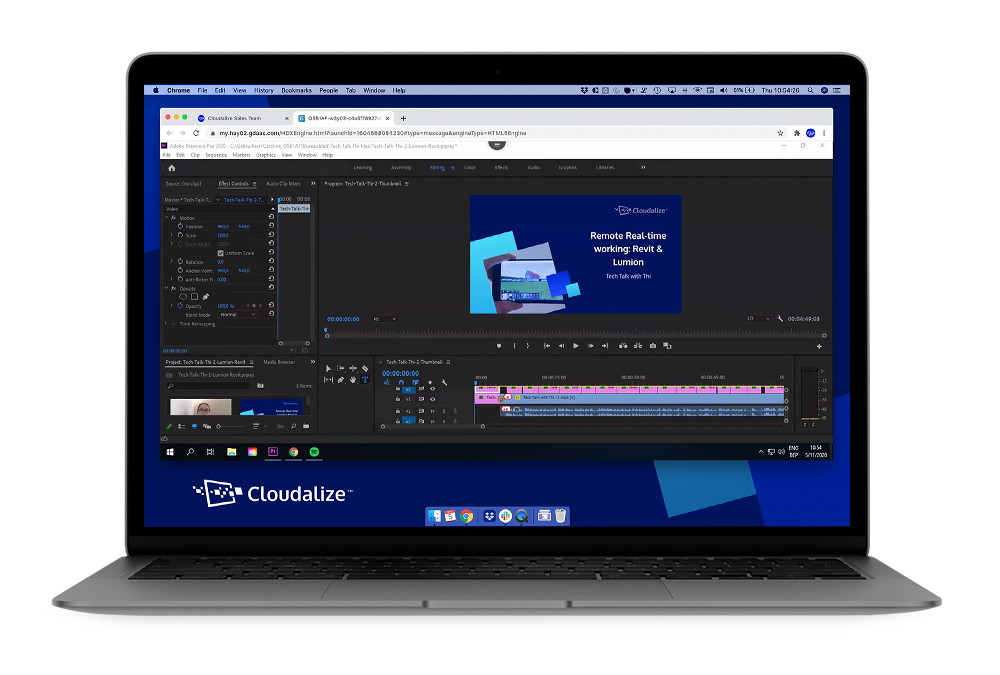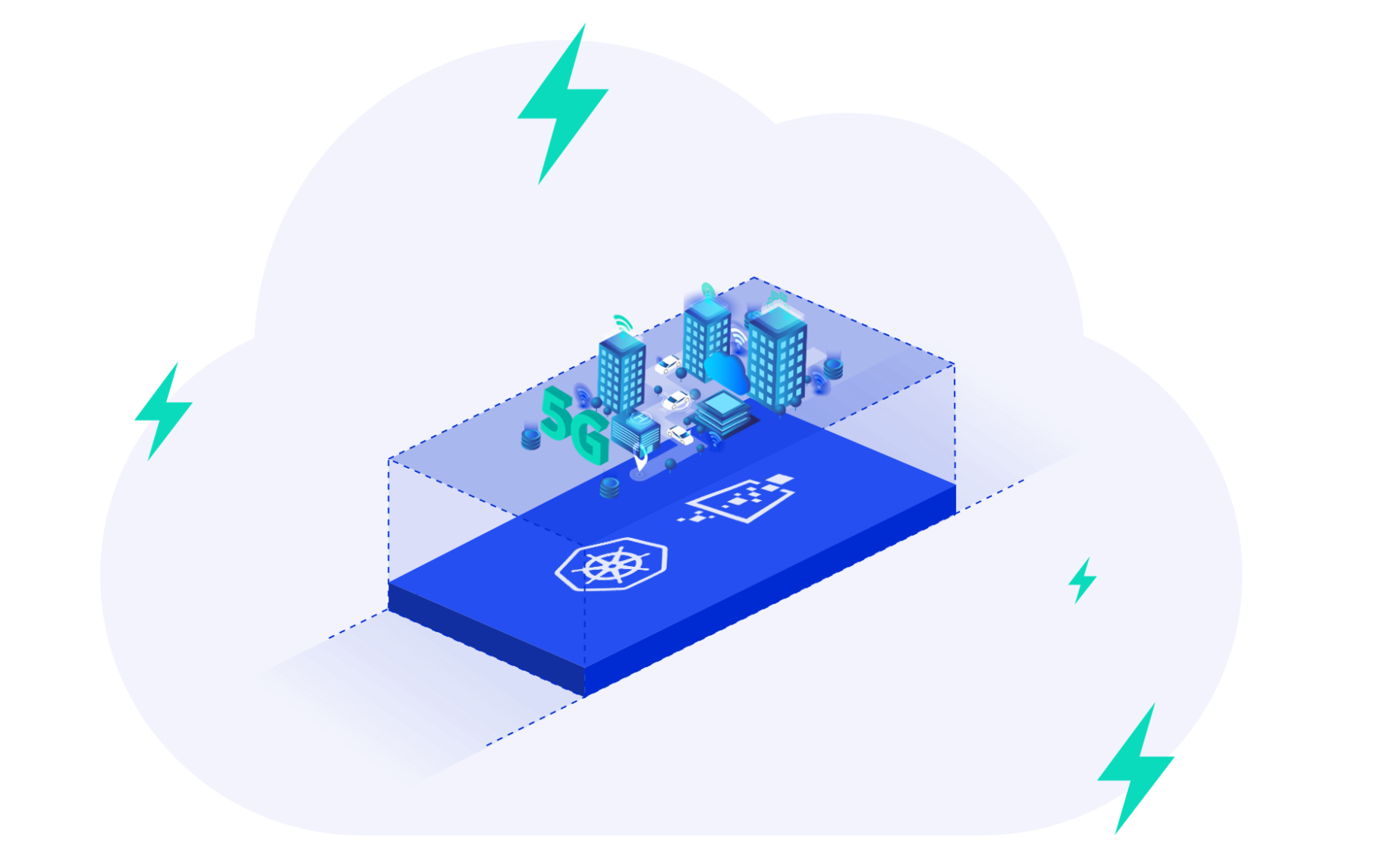 Kubernetes GPU Cloud
Kubernetes GPU Cloud gives anyone requiring a pre-configured GPU-based Kubernetes (K8s) platform a head-start. It is an enterprise-grade solution ready for data-driven enterprises, data scientists, researchers, and AI consultants. Kubernetes GPU Cloud simplifies the process to set up and maintain a modern K8s infrastructure.
Find Out More