"Life is divided into three terms - that which was, which is, and which will be. Let us learn from the past to profit by the present, and from the present, to live better in the future."

William Wordsworth

1770-1850
That Which Was
It all seemed so simple back in 2012. SketchUp was Google SketchUp with two versions available: SketchUp and SketchUp Pro. SketchUp was basic and facilitated building models for Google Earth. Imagine? The best part was that it was free! While the Pro version had more bells and whistles: generating reports and exchanging files with third-party software.
SketchUp was free and the SketchUp Pro was around USD 100 for a single-user license. Google was already seeing the that-which-is state of 2020 because SketchUp Pro was not available on CD-ROM.
That Which Is
Trimble
Trimble bought SketchUp in 2012 for an undisclosed amount. There are no more two versions but multiple including SketchUp Free, SketchUp VR, SketchUp Studio and SketchUp Pro Subscription and SketchUp layout.
Fundamentally there are two platforms of SketchUp: Web and Desktop. SketchUp Web runs directly from the web and there is no downloads while SketchUp Pro is available for download for Windows-OS and macOS. Both offer the same basic functionalities such as rectangle tool, but the interface is very different between the two. The tool and menu functionalities are streamlined in the web version versus the desktop version.
SketchUp Web is perfect for remote working and brings flexiblity and mobility of design. But it has no third-party plug-in functionality; it's impossible to customer any styles and materials and imports and exports are limited. The unique-selling point of SketchUp Web is that it is cloud-based. Functionality is identical across devices. All that is needed is a login from a browser and you can access any models on which you have been working.
SketchUp Pro needs a desktop computer…or does it?
Cloudalize
It is a myth to believe that SketchUp Pro will not work on the Cloud. Installing SketchUp Pro on a Cloudalize Cloud Workstation brings SketchUp to the Cloud in a secure and safe digital working environment ideal for remote working or distance learning.
A Cloud Workstation is Cloudalize's unique Desktop-as-a-Service (DaaS) built on the Cloudalize Cloud Platform. It runs from many Internet browsers and delivers greater speed and processing power thanks to the proprietary graphical-processing unit (GPU) technology.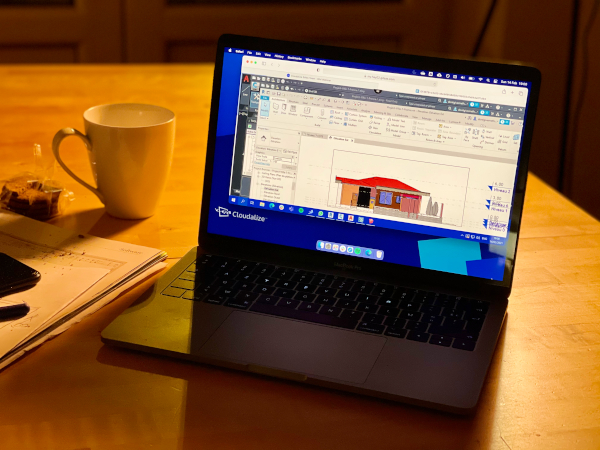 Figure 1: A Cloudalize Workstation (DaaS) running Revit, Civil 3D, AutoCAD, Lumion and SketchUp on Apple Safari (14.0.3)
1. Fully-Functional
Since a Cloud Workstation is a Windows-based machine in the Cloud, it gives SketchUp end users all the functionalities of SketchPro including the third-party extensions, full export-import capabilities, create animation and use solid tools on any device: MacBook, Laptop or tablet.  
2. Real-time Collaboration
Real-time sharing and collaboration are done within the Cloudalize Cloud Platform with your other colleagues and even with third-party individuals including clients, different subsidiaries. It is possible to shut down a Cloud Workstation on one device in the office and open it on another device in the field and continue where you left off.  
3. Multi-task on the Job
Thanks to the greater processing power of the Cloudalize Cloud Platform, SketchUp end users can run a numerous professional design programs simultaneously. SketchUp end users can manoeuvre between SketchUp, AutoCAD, Civil 3D or Lumion instantaneously. An additional benefit is to multi-task such as rendering a house design in Lumion while adjusting a model in Civil 3D.
4. 400 GB of Storage 
Cloudalize offers 400 GB of storage as standard with every Cloud Workstation. It's a fully-functionality alternative to Trimble Connect and it is not limited to file type. You can direct access to project files, designs and models. You can save instantly in the Cloud and the design is ready for a colleague to use it With the Cloudalize Cloud Platform; you are not limited with the file types to upload and download. 
Figure 2: SketchUp Pro running on a Cloud Workstation. Device: Microsoft Surface 3 (1.6 GHz Intel Atom, 2 GB of RAM). Released 2015.
Which Will Be
Just a year ago, remote working was like a mythical unicorn for many of you reading this. Requests were often refused; justification for refusal was weak. It was a real bataille royale to have it just for one day to accept delivery of a fridge or to facilitate a dental or an antenatal clinic appointment.
Wordsworth wrote that "profit by the present and live better in the future". No-one is suggesting that we "profit" from the present crisis, but we all must learn from the current situation and embrace change. The days of the Morning Train as Sheena sang are gone. Remote working is here to stay, and the Cloudalize enables to work better in the future.
Cloudalize delivers a better working experience for SketchUp end users. From a simple Internet browser, SketchUp end users can have more processing power and a real-time collaboration to work from anywhere on any device with a Cloudalize Cloud Workstation (DaaS).
It combines the flexibility and mobility of SketchUp web to power users of SketchUp Pro with full customisations and toolset. Cloudalize helps to combine professional software into one safely and securely on the Cloud.
Editor's Note: Screenshots and photos taken while using SketchUp Pro 2019. SketchUp Pro 2021 has been tested and verified to work on the Cloudalize Cloud Platform. MMC 15 February 2021.
Author: Koenraad Willems