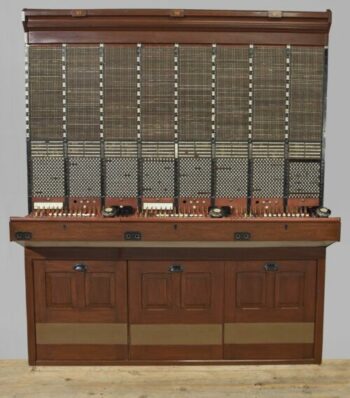 Figure 1: Section of a manual telephone exchange switchboard, type CB 1, with positions for three operators by General Post Office, UK. (Science Museum Group)
South Kensington tube station is the beginning of a journey of discovery. As you exit on Thurloe Street and mender through the heart of central London, you will find yourself at an imposing neo-classical building. Welcome to the Science Museum. 
Miles of halls and corridors chart epochs of technological advancements. On exhibit are astronomical clocks from the 17th century, a telephone exchange, and a revolver camera. All three – horology, photography, and telephony – became digitalised. Have IT teams realised that they also must go digital?
Digital Transformation
The world is changing, and digital transformation is taking place. Internet-of-Things (IoT) and Artificial Intelligence (AI) are here and 6G is already in development while some of us don't even have 5G yet. (Blumenthal 2020)
Millennials are becoming more difficult: they want functionality with ease-of-use. Alas, the baby boomers are remarkably similar despite everything that they say. No-one wants to hear: "Your laptop has only 4 GB of RAM and not the required 12 GB", "We don't have the budget to replace every machine" or "It is not possible with the current server".
Remote working and distant learning are sine qua non. Not facilitating the two is non-negotiable.
The Cloud
Which IT team has not heard "Less time managing infrastructure and setting up laptops and more time and resources on going digital"? Keeping the traditional virtual desktop infrastructure (VDI) is now only a short-term solution. Security is not guaranteed; set-up is complex and roll-out is not scalable. An organisation must continue to purchase and deploy multiple elements with a skilled team to continue to maintain it.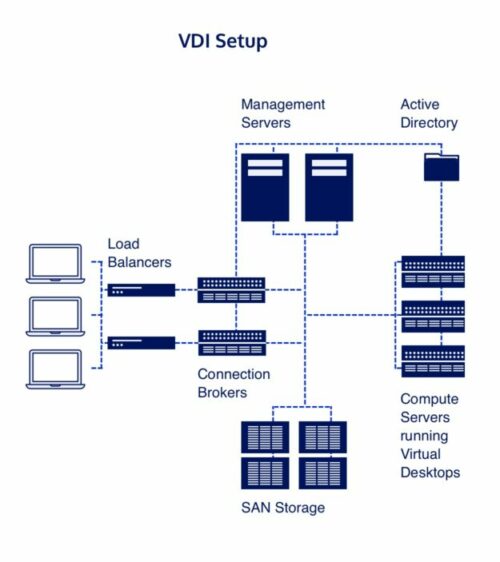 Figure 2: The old-way of enabling remote working or distance learning. A virtual desktop infrastructure (VDI) requires a lot of expensive components to procure, set up and manage.
VDI is not a one-size-fits-all solution for digital transformation. A Bring-Your-Own-Device (BYOD) policy will still need special OS-specific software to enable access. The IT team again will be called to install and deploy on each machine and device. The ideal scenario is to remove the VDI and go to the Cloud with a fully-managed service like the one from Cloudalize. This is an ideal scenario for a small and medium enterprise (SME) with a 2- or 3-person IT team.
Going to the Cloud is often mentioned but not explained. It is simple: removing the VDI and transferring all your data to cyberspace accessible via the Internet. A fully-managed service means that the cloud provider supports, services, updates and manages the Cloud. Your IT team stays in control to deploy what is needed for your organisation.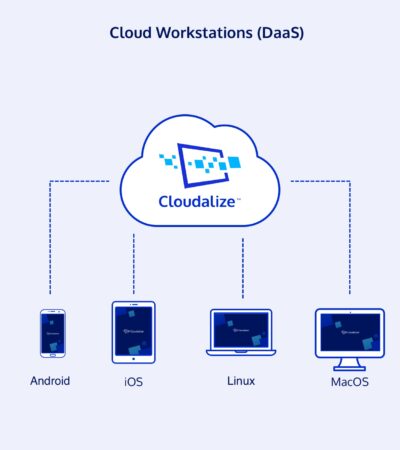 Figure 3: The Cloudalize Cloud Platform offers Desktop-as-a-Service (DaaS) simply to every device and operating system without installing special OS-specific software. 
Desktop-as-a-Service 
Desktop-as-a-Service (DaaS) is an application of cloud computing. Every organisation has a cloud-based productivity suite in 2021. Whether it is Google Workspaces, Microsoft 365, or an alternative such as PolarisOffice or LibreOffice, this was "digital transformation" for SMEs before 2020. Workers or students have access to their files and projects from an Internet browser. 
What about a whole Windows-powered desktop from the Cloud? Revolutionary? Not really. Game changing? Definitely.  
Employees and students just connect to it like to open a document on Google Drive or an email in Microsoft Outlook. Embracing Desktop-as-a-Service (DaaS) means that organisations are no longer burdened with buying hardware, supporting infrastructure, and hiring third-party paid-per-hour consultants to install and maintain.  
The Cloudalize Cloud Platform 
Desktop-as-a-Service (DaaS) – or we call it Cloud Workstations – is just one product of Cloudalize. Along with Kubernetes GPU Cloud and soon-to-be-launched App-streaming, it forms of the Cloudalize Cloud Platform.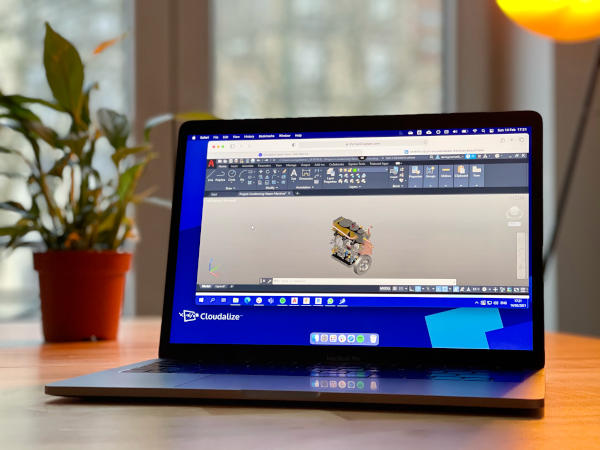 Figure 4: A Cloudalize Cloud Workstation (DaaS) running Autodesk AutoCAD in the Cloud on a Apple Macbook. 
The Cloudalize Cloud Platform is different. It brings all the benefits of cloud computing to your organisation with extra advantages being more secure and powerful. Cloudalize is private cloud which means that the Cloudalize services are exclusive to Cloudalize customers. Private Cloud allows for added tailoring of the Cloud to best suit the needs and aims of your organisations.  
Cloudalize is built on proprietary technology to exploit graphical processing units (GPUs). These are up to 1,000 more powerful than traditional CPUs. A Cloud Workstation delivers better speed and processing power directly via the Internet to any device. From architecture, construction and engineering to media and entertainment, Cloudalize guarantees a better end-user experience over a traditional CPU-powered machine for highly-specialised software.
ITs
 Role Has Changed
The day spent in the Science Museum London is a long distant memory given the current situation. Every exhibit illustrates how industry evolves. Over the last 20 years, the role of IT has completely changed. The role of IT upgrading a PC with more RAM or installing more software will eventually disappear.  
Millennials and baby boomers want full flexibility, a BYOD policy, greater security, and a better user experience. IT teams cannot do this alone but Cloudalize is here to help organisations willing to change and embrace digital transformation. The Cloudalize Cloud Platform is a fully-managed cloud service so IT can go digital whenever and wherever they want.  
If I live to 2050 and I go to the Science Museum London, will I see a VDI setup? Too late! There are already some 1980s mainframes. It is more likely that future visitors to the Museum will visit virtually with VR headset directly and remotely from their home or classroom. Alas, for me, to fully appreciate a museum, no devices are necessary. 🙂 
Contact us
Author: Martin Mc Cormack
References
Written
Blumenthal, E. 2020, Apple, Google, LG join industry group working on 6G, CNET, 13 November 2020. Available here: Apple, Google, LG join industry group working on 6G – CNET [Accessed 28 February 2019]
Image
Science Museum Group. Section of a CB1 manual telephone exchange switchboard, 1925-1960. 1961-94 Pt1Science Museum Group Collection Online. Available here: Section of a CB1 manual telephone exchange switchboard, 1925-1960 | Science Museum Group Collection [Accessed 1 March 2021]