Cloud computing optimized for the Media and Entertainment supply chain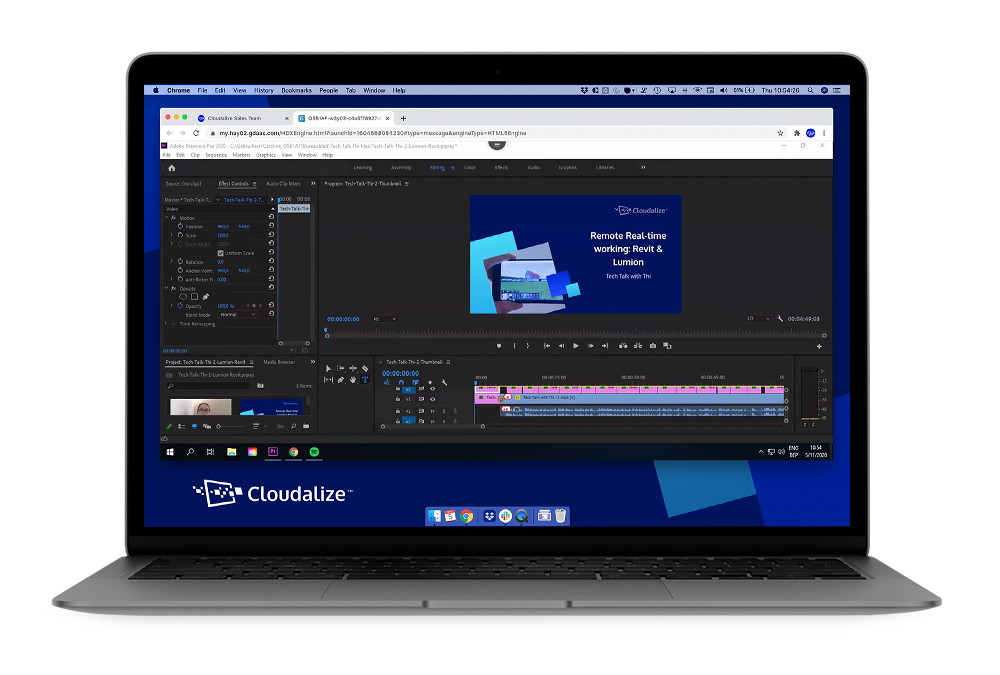 Tackle today's tasks. Be ready for tomorrow's challenges.
The media and entertainment industry has some unique requirements for their cloud platform.
M&E teams rely on remote workstations to handle all aspects of content creation.
M&E platforms must to render hyperrealistic projects and effects with ease.
M&E projects require low-latency cloud platforms for streaming, broadcast, and direct-to-consumer.
Cloudalize lets everyone involved in a M&E project spend more time creating and less time waiting.
Fast
Faster production launches, shorter time-to-value.
Immediately available after login on Cloudalize platform
Better productivity and superior performance for CAD applications and BIM models
Extremely low latency on current networks
Help your global teams to collaborate effectively.
Simple
A collaborative creative studio in the cloud.
Superior virtual workstations at for better productivity at scale.
Zero daily administration, upgrades, or tech support.
Predictable, transparent costing model
Focus on the creative work rather your tech infrastructure.
Secure
A robust cloud computing, rendering, and storage platform.
Built-in security, with fully protected  machines and controlled machines.
All the power you need for streaming, broadcast, and direct-to-consumer platforms.
Disaster Recovery lets you quickly recover from any interruption.
Eliminate costly delays to productions.
Bring together top talent with Cloudalize
More and more creative projects require work from creative talent from all over the world. Leading M&E businesses use Cloudalize to make specialized applications and production files available on any device, anywhere.
According to the World Economic Forum, 98% of people surveyed want to work from home for the remainder of their careers.

A Gartner survey found 82% of businesses plan to retain a remote work environment. 
Find out how leading M&E businesses deliver projects faster, at less risk and at lower cost. Discover how you, too, can improve efficiency, create at scale, and drive digital innovation, from initial idea to finished production.
Contact us