Are you prepared for home working?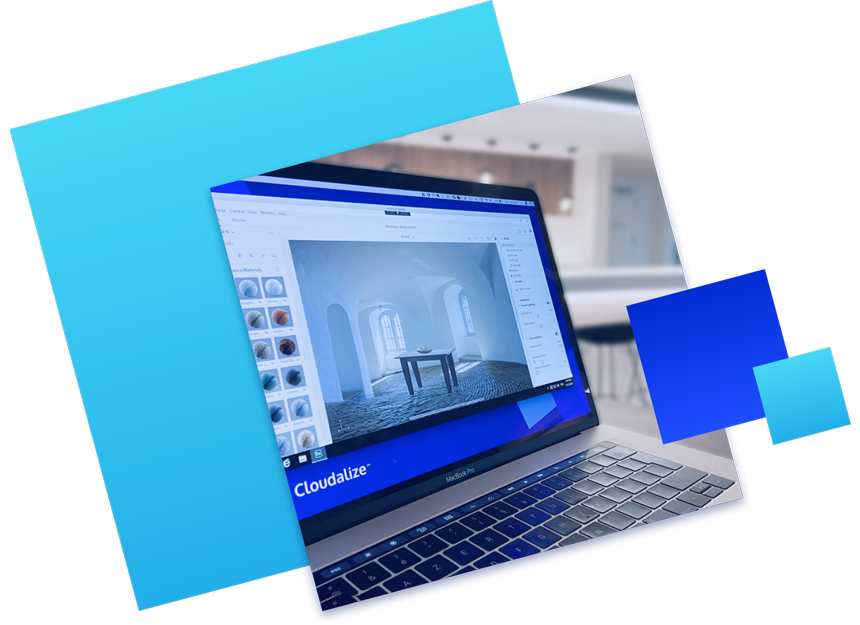 Design and render from home on a mac with Cloudalize
Countries and cities across the world are going into quarantine to protect their citizens from the spread of COVID-19 (Coronavirus) and this presents new challenges for businesses. Day-to-day operations must continue to keep employees safe, engaged and satisfied in their jobs.
Home working or remote working with Cloudalize's GPU-powered virtual desktops is a straightforward and efficient way to equip your team with the power, security and performance to run all their daily professional business applications as well as heavy-duty design and rendering software.
This means that your business stays productive, maintains the level of service and care that your customers deserve and have a robust, real-time collaborative solution with rapid deployment, an enhanced end-user experience and easy-IT management.
Cloudalize's Home Working Checklist
1. Is your home working solution secure?
The Cloudalize platform is built on ISO- and SOC-certified data centres which offer 24/7 round-the-clock security and back-ups of your proprietary data of your organisation and of your customers. Data breaches are minimised in the Cloud allowing your employees to work from home on any device.
2. Does your home working solution have the resources?
Thanks to its GPU power, Cloudalize provides all the processing power and speed that your team requires to run all their digital tools, applications, processes and more from their own device whether Windows, macOS or Linux. These applications include heavy-duty digital rendering and design tools such as Adobe, Autodesk, Lumion, BorisFX and many more.
3. Is your home working scalable?
Cloudalize's infrastructure meets your evolving business requirements in minutes. GPU-powered virtual desktops and blueprints are easily launched from the Initiative UI of Cloudalize's Admin Portal and are configured to meet the specific needs of different applications whether for team on-site, students at home; third-party contractors or clients.
4. Is your home working solution cost effective?
Cloudalize GPU-powered Desktop-as-a-Service (DaaS) is pay-per-use which requires that you only pay for what you use. This means that you can manage your costs as well as your business requirements too.
"We are so grateful to be set up on Cloudalize! Our whole team is working remotely, and Cloudalize has made that transition possible."
Cathrin Winsor, Project Manager, BRC Imagination Arts
Work from home: safely and efficiently with Cloudalize